Looking for a one off order?
One design of a beautiful seasonal bouquet is available for a contact-free delivery every Thursday, Friday and Saturday.

We change the design each weekly so we can select the freshest and best quality flowers for you.
RECENT REVIEWS
Amazing flowers and great service. There was a slight confusion over my address as I entered it incorrectly but they phoned straight away, clarified where I was and Marianne delivered them by hand. Will definitely be ordering again :)
Joe Osborne
November 2020
I chose Sweet Pea Flowers to put together a bouquet of flowers for my wife's birthday and I am 100% happy with this decision... It was clear that a lot of thought and care was put into the end result. I have found my new local go-to florist. Thank you Marianne!
Daniel Silva
October 2020
Stunning flowers. Incredible service. Could not ask for more !
Michal Sulkowski
November 2020
LOOKING TO ORDER FLOWERS IN ADVANCE?
You can now do this on our Bouquet of the week page.

Our flowers change weekly, so when your order is due you will be delivered our beautiful, seasonal bouquet of the week.
How to care for your flowers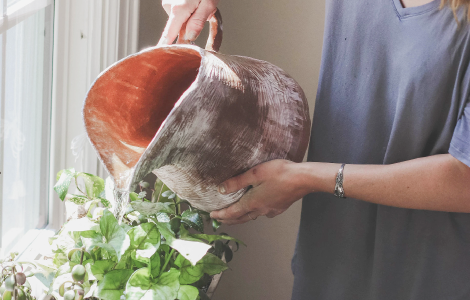 1
Preparing your bouquet
Once you have received your flowers remove the wrapping paper. It's compostable so can go in the food bin. Cut about 1/4 inch off the bottom of the stems. Cut them at an angle, rather than straight across the bottom so a greater surface area of stem is exposed. The bouquets are hand-tied so it's best to keep the tie around the stems on as that holds the bouquet together. Place in a vase of clean water making sure that all the stems are in water. Change the water regularly, re-snipping the stems when you do.